USPS has raised their prices in 2023 and discontinued some services we were using for our heavier products. Our shipping prices have had to increase accordingly. We apologize for the inconvenience, but we will do everything we can to ensure you are getting the very best shipping price.
New Flavors Are Here!
🍋 Lemon and 🌺 Hibiscus Chai Home Brew Kits have arrived!

We're thrilled to be launching the latest editions to our home brew collection.

This is a soft launch so supplies are limited. Hurry and grab some before they are gone!

Shop New Flavors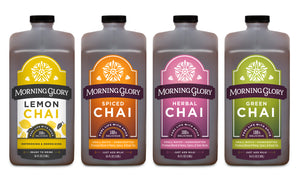 Introducing Morning Glory Chai, the chai company that uses only natural ingredients to produce our high-quality, delicious chai. Our drinks have the caffeine you need to make it through the day. With only 7g of sugar in each serving, we provide the sweetness that you're looking for while providing you a healthy option to replace coffee, soda, and energy drinks. 
Shop Our Chai
Our chai is different. When our founder, Jessica, began Morning Glory Chai, she made a commitment to herself, to her team, and to her company: never use an artificial ingredient. Morning Glory Chai has stayed true to this commitment for 26 years. With facilities located in Washington state, we have access to some of the purest, highest quality water the US has to offer. And since we run our own facility, we control the production of our chai from start to finish. With Jessica is still in charge of our production, we guarantee that the key principles of our chai – natural, flavorful, and made with love – will come through in every sip.
Learn More